Home

When Will Doge Breach Its All-Time High of $0.73?
When Will Doge Breach Its All-Time High of $0.73?
Dogecoin had a phenomenal run in 2021 as it basked in the limelight after Tesla CEO, Elon Musk, announced he invested in the meme coin. DOGE was the talk of the town last year, and it attracted millions of new and first-time investors into the cryptocurrency markets. The meme coin skyrocketed to $0.73 in May 2021, making early investors sit on heaps of profits.
Also Read: Shiba Inu: Investment of $670 Turns to $1.7 Million In 1 Year
A handful of investors, who took an entry position when the coin was trading below 1 cent, turned into millionaires overnight. However, Dogecoin plummeted in price after touching its ATH, never to recover again, even after 19 months.
Investors are eagerly waiting for Dogecoin to breach the $1 milestone, but the bear markets are pushing its price backward. It is now down 88% from its ATH and is unlikely to spike in price and reach $1 in 2022.
Also Read: 3 Cryptos That Lost Their 'Hype' in 2022
Dogecoin To Breach Its All-Time High in 2029?
'Price Predictions', a machine-learning algorithm, has forecasted that Dogecoin could breach its all-time high of $0.73 only in 2029.
The AI has predicted that Dogecoin's price could climb above its May 2021 ATH, and reach $0.77 only in December 2029.
Also Read: This Dogecoin Prediction Will Never Come True in 2023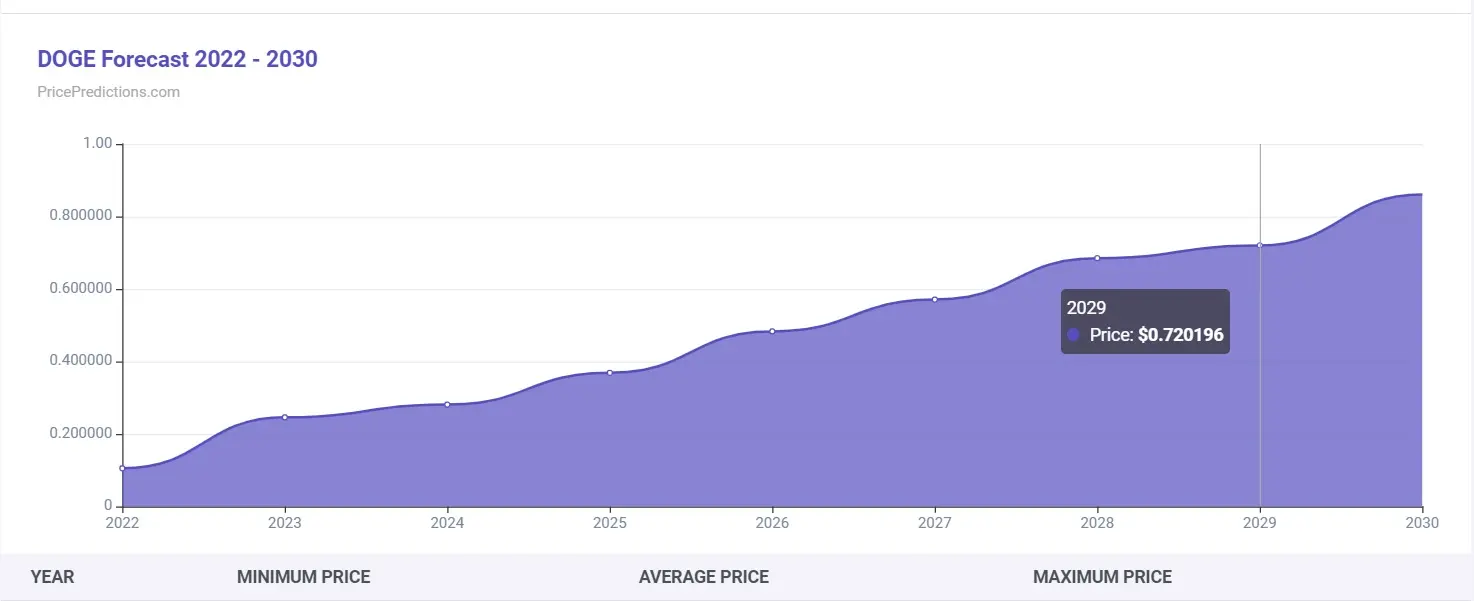 "As the year ends, Dogecoin is expected to reach a new all-time high of $0.7722 in December 2029. The average price of Doge could be around $0.74, providing it receives the support it needs," predicted the AI.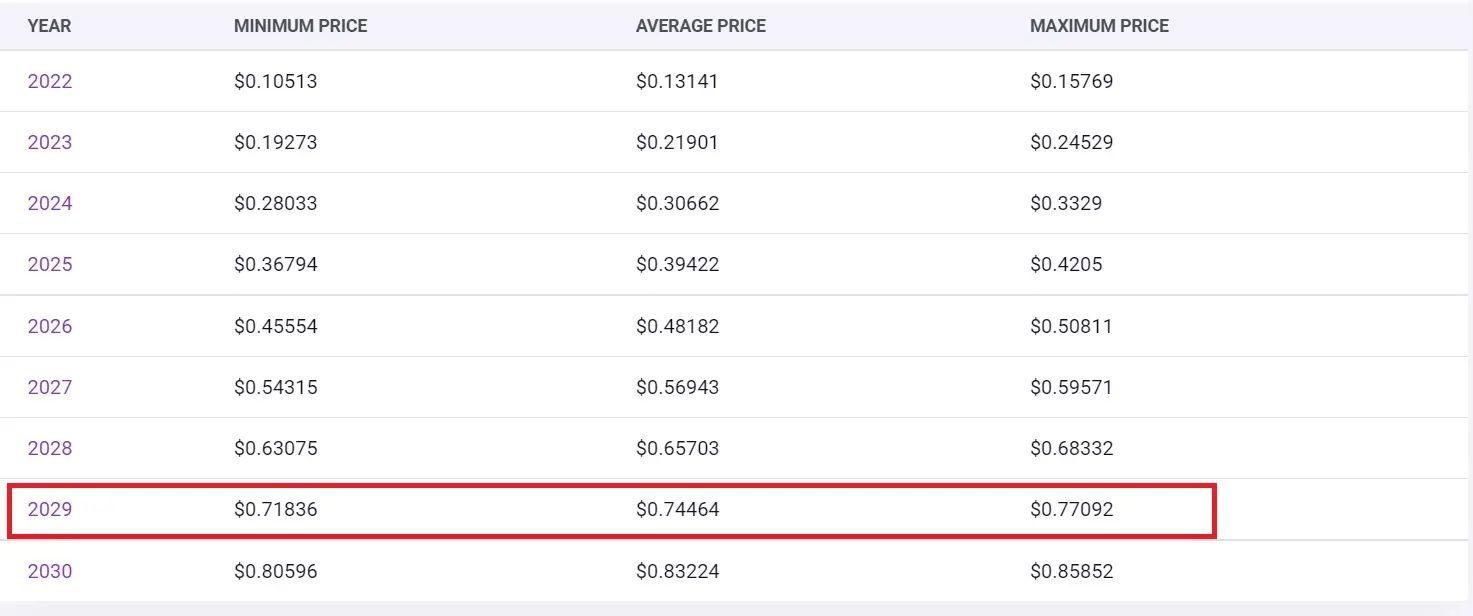 Moreover, 'Price Predictions' claims that Dogecoin will not reach $1 by 2030, despite it reaching a new ATH in 2029. The maximum price DOGE could reach before the end of 2030 is $0.83, as per the machine-learning algorithm.
If the forecast is accurate, Dogecoin would never reach $1 in this decade.
Also Read: Shiba Inu: AI Predicts SHIB Price For December 31, 2022
'Price Predictions', is a machine learning and algorithm-based price indicator that uses artificial intelligence (AI). It calculates a token's moving average (MA), relative strength index (RSI), moving average convergence divergence (MACD), Bollinger Bands (BB), and other indicators.
At press time, Dogecoin was trading at $0.08 and is down 3.9% in the 24 hours day trade. It is also down 88% from its ATH of $0.73, which it reached in May 2021.
(Visited 9 times, 1 visits today)
About The Author
You Might Be Interested In