Home

Baby Doge Meme Coin Price Prediction 2022
Baby Doge Meme Coin Price Prediction 2022
Baby Doge coin has evolved into one of the most exciting and popular meme coins within the entire blockchain space. Today the Baby Doge meme coin community thrives with more than 1.5 million Twitter followers.
So far this week Baby Doge has seen an increase in price of 7.45% and continues to print bullish green candles at the time of writing this article.
Baby Doge is also currently trading within a symmetrical triangle which is a continuation pattern. The bulls may be likely to win here. Will Baby Doge pump?
Baby Doge Meme Coin Price Prediction 2022
Baby Doge coin has seen a strong recovery following the Terra Luna crypto crash on the 12th May 2022. The deleterious effects of the crash lead Baby Doge coin to correct down to a major support level of $0.000000000835. Today the Baby Doge coin is trading at 0.0000000013 and is up 57.7% from the crash.
What currently excites me is the current bullish price action that is being written on the charts. Baby Doge coin is trading within a symmetrical triangle pattern and has been for the last 78 days.
This is a level where many traders or investors recognise value in the current lower prices during this consolidation phase. 78 days of accumulation at these particular price levels is creating a lot of tension between the support and resistance trendlines. Typically the longer the duration of the symmetrical triangle the more explosive the breakout can be.
BabyDoge-Usdt – Daily Time Frame.
Should the bulls be able to maintain positive price momentum within the symmetrical triangle we could speculate an explosive breakout. The technical target would bring us to around $0.000000002461 resulting in a 41.87% increase in price for Baby Doge coin.
Of course the path of the altcoin market is still very much dictated by the trajectory of Bitcoin. Although right now altcoins could potentially offer a lot of volatility which would allow traders to capitalize more crypto to convert into Bitcoin and Ethereum whilst they consolidate.
Baby Doge coin is also trending across the social matrix and has some of the highest social engagements on the BNB chain. This means massive exposure for the project and a lot of volume. If burning can be implemented on centralized exchanges this would be very good for the price action of Baby Doge coin.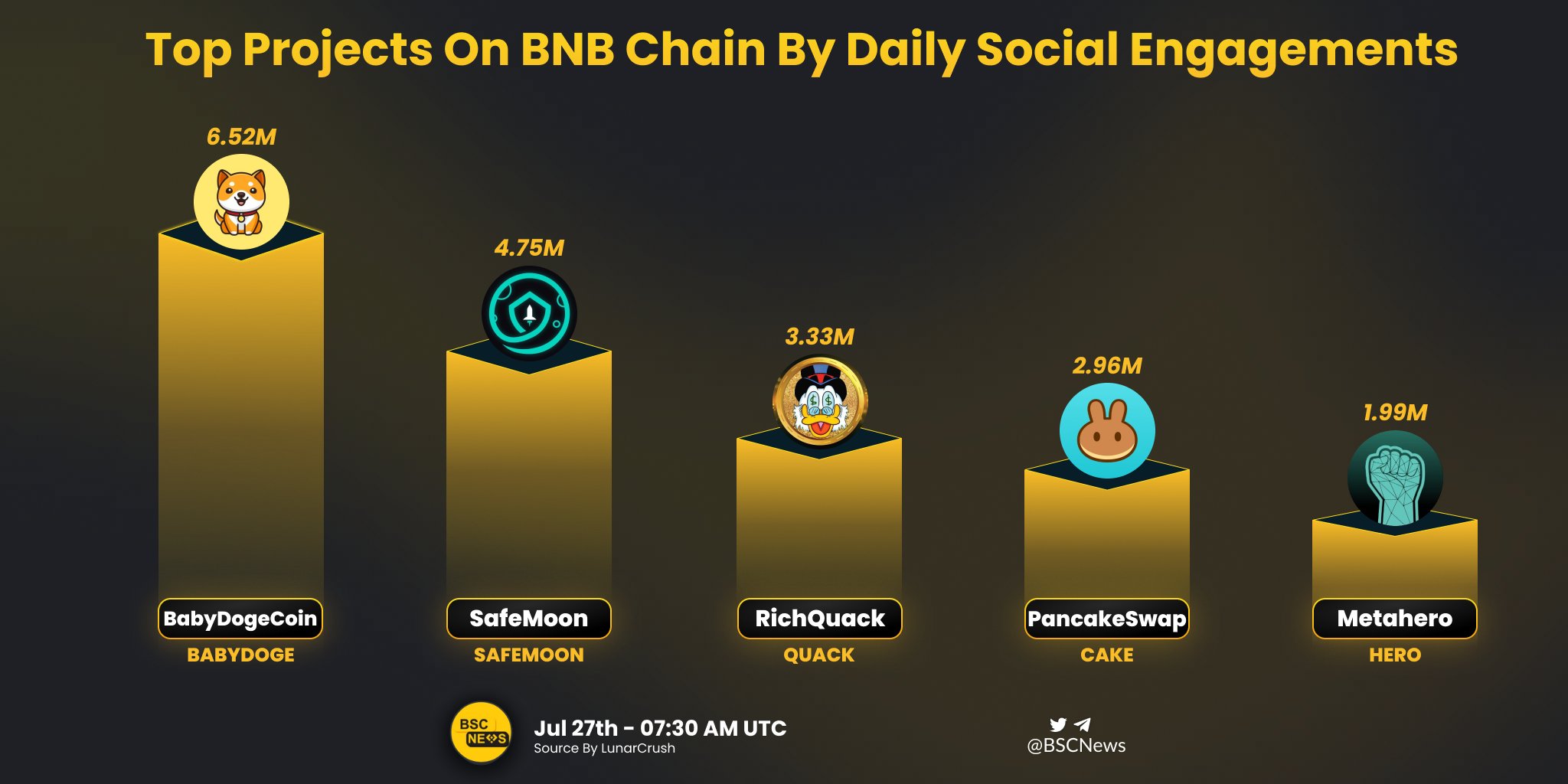 Bsc News Tweet.
According to Coinmarketcap Baby Doge coin has a market capital of $146 million. A pragmatic target for this by the next crypto bull run could be somewhere between $1-2b. I speculate Baby Doge will have a good chance to combat $0.000000002 price levels again. This is a key level of resistance and we would likely see rejection here during the bear markets.
We also have to consider macro-economic externalities which are suppressing a bull market at the moment and the state of the crypto market as a whole.
I believe Baby Doge will remain one of the blue-chip meme coins, however, I do not believe we will see any all-time highs soon. Current price levels could be seen as attractive to new investors who have an appetite for high-risk high-reward situations.
Baby Doge Video Analysis
Meme Coins will forever hold their importance in the market. After all, meme coins generated a huge audience for crypto as they became famous over social media. Think of Doge Coin as an example.
Due to the massive supply of Baby Doge coins (420 quadrillion) it will be very unlikely that we would ever see this project reach $0.01. I would be keen to see Baby Doge reach $0.00000001 once enough burning has been implemented and after more centralized exchange listings for healthy volume.
What is Baby Doge Meme Coin?
Baby Doge meme coin is a deflationary community-based token which intends to become more scarce over time. Baby Doge is a lightsome meme coin which was created by the digital Dogecoin community. The website states "Baby Doge seeks to impress his father by showing his new, improved transaction speeds and adorableness."
All holders of Baby Doge will capitalise more Baby Doge by simply holding it in their wallet. This is achieved by auto-reflections where every on-chain transaction results in a 5% fee which is distributed to the holders.
As of today Baby Doge has no real world use. Although, The developers do have plans to integrate Baby Doge commercially with retailers such as Shopify, WooCommerce and various other digital e-commerce platforms.
Other Meme Coins With Potential Like Baby Doge
Analyzing the historical data of Baby Doge coin we can identify that the project has reached some key milestones already, such as it's impressive social following and loyal community. Whilst Baby Doge is a fun and light-hearted investment choice I think that it is now exhausted and already reached its peak potential (for now) during the extreme greed and euphoria phase of the bull run.
There is a new big potential deflationary Doge themed token entering the meme coin ecosystem known as Tama Doge. The project is currently in beta pre-sale which means it hasn't reached any centralized or decentralized exchanges yet. The pre-sale will be available until the 2nd of September 2022.
In just a few days 25,120 USDT has been generated at buy.tamadoge.io and investors can purchase Tama Doge with ETH, USDT or Fiat currencies. Rumours are also circulating that they will be listing on centralized exchanges such as Lbank following the launch.
Most Doge themed meme coin projects perform well after their pre-sale and because Tama Doge would be in the early stages of its road map it means presale investors can benefit from a low-cost entry. Baby Doge has already experienced a 10-100x and due to the increased market capital it makes it very unlikely to happen again.
A brand new project such as Tama Doge with a powerful marketing strategy would have greater chances of achieving 10-100x since it is not on mainstream exchanges yet. The market capital would be lower following launch (It is easier to achieve a 100x from $2m to $200m than $200m to $20b) which makes it perfect for high-risk high-reward seeking investors.
Investing in Tama Doge during the pre-sale phase could mean that you would be likely to financially prosper as you have the privilege of pre-sale prices.
Related
Tamadoge (TAMA) – Next Big Meme Coin
Beta Sale Ends Sept 2022 – tamadoge.io
Deflationary, Low Supply – 2 Billion
Move to Earn, Metaverse Integration on Roadmap
NFT Doge Pets – Potential for Mass Adoption
Play to Earn Utility – Rewards Token
---
(Visited 8 times, 1 visits today)
About The Author
You Might Be Interested In